---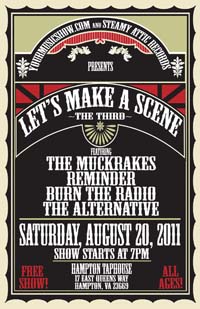 Showcase #3, affectionately referred to as LET'S MAKE A SCENE The Third will be held at The Hampton Taphouse on August 20. A wide variety of genres will be represented, and all by original local artists. Check out the lineup:
The Muckrakes (Americana, Hampton Roads)
Reminder (Alternative Rock, Hampton Roads)
Burn The Radio (Experimental Rock, VA Beach)
The Alternative (Rock/Hip Hop, Hampton Roads)


The Hampton Taphouse is located in beautiful downtown Hampton at 17 E. Queens Way, Hampton, VA 23669. The show is free and begins at 8pm. Sorry kids, 21 and up this time.
---
The August guest artist calendar is packed with sweet sounds. Check it out!
---
LET'S MAKE A SCENE Part Deux showed that audiences in this area are indeed eager to hear local original music. The size of the audience grew significantly from the first showcase. Let's keep the growth happening!

Showcase #2 was July 9 at Olde Towne Tavern in Phoebus, VA! The killer lineup for this show was:

Popular Vultures (Alternative Rock/Blues, Hampton)

SICMaN of Virginia (Freak out Rock, VA Beach)

Alpha Whale (Heavy Groove Rock, Hampton)

Possessor (Thrash Metal, VA Beach)
---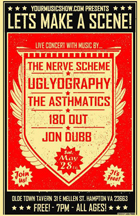 The first showcase was a huge success! Thanks to the bands that joined us May 28 at Olde Towne Tavern for the inaugural event. It was a night that will be remembered for a long time to come, and one to be matched by future showcases! The lineup was:
The Nerve Scheme (Punk Rock, Hampton)
The Asthmatics(Rock/Pop, Newport News)
Jon Dubb (Hip Hop, VA Beach)
Uglyography (Quirkadelic Rock, Hampton)
180 Out (Metal, VA Beach)
---